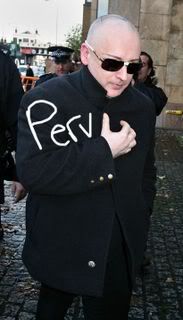 Boy George hastily exits the Thames Magistrates Court in London on Friday.
The 46-year-old DJ and front man of '80s pop group Culture Club, whose real name is George O'Dowd, appeared in court in London on February 25, the Thames Magistrate's Court ruled. He was released on conditional bail.
Boy George is accused of chaining the 28-year-old male escort to a wall in his London home on April 28 this year. George spoke during the minute-long hearing only to confirm his name and date of birth.
The singer completed a week of community service in New York last year after admitting that he falsely reported a burglary at his lower Manhattan apartment. Responding police found a stash of cocaine.